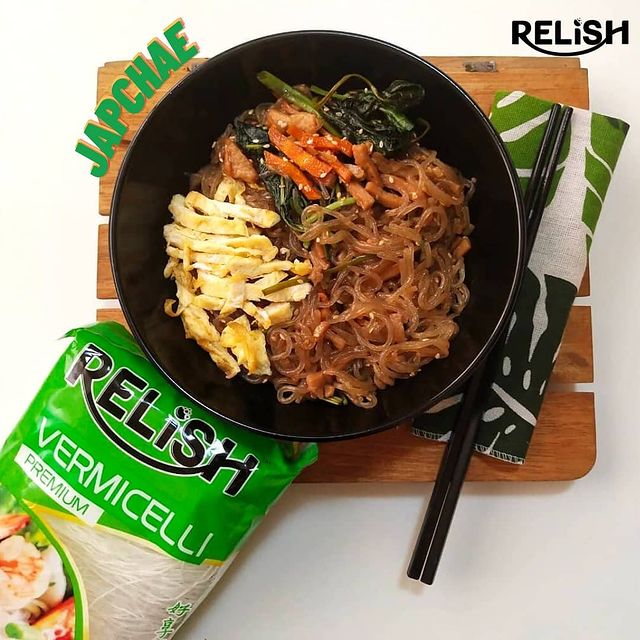 Relish Premium Vermicelli Japchae
Ingredients
 @eat.relish.ph Premium Vermicelli
1 large onion (8 ounces), sliced
1 large carrot, peeled and cut into long strips
8 ounces bunch spinach, washed, with the roots cut away, and the leaves cut into 4-inch pieces
¼ cup vegetable oil
1 tbsp toasted sesame seeds
1 tbsp sesame oil
1/4 kg meat (either chicken or pork, I used kikiam) sliced into strips
1/4 cup  @eat.relish.ph mushroom pieces and stems
2 eggs
¼ cup soy sauce
3 tablespoons brown (or white) sugar
½ to 1 teaspoon ground black pepper
5 garlic cloves, minced
Procedure
1. Cook the @eat.relish.ph  Premium Vermicelli, drain then set aside.
2. Scrambled the eggs, cut into long strips then set aside.
3. To make the seasoning sauce – Combine the soy sauce, brown (or white) sugar, ground black pepper, and garlic in a bowl and mix well with a spoon until the sugar is dissolved. Cover and set aside.
4. In a large pot, add ¼ cup vegetable oil and ¼ cup water to the pot. Mix well everything in the pot with both hands so that all the vegetables are nicely coated with oil.
5. Spread the spinach over top in an even layer.
6. Place the noodles on top of the spinach in the pot.
7. Drizzle the seasoning sauce on top of the noodles.
8. Cover and cook for 10 minutes over medium-high heat.
9. Add the cooked meat, 1 tablespoon sesame oil, and 1 tablespoon sesame seeds.
10. Transfer to a large platter. Garnish with the egg strips and sprinkle sesame seeds.
Serve and enjoy!