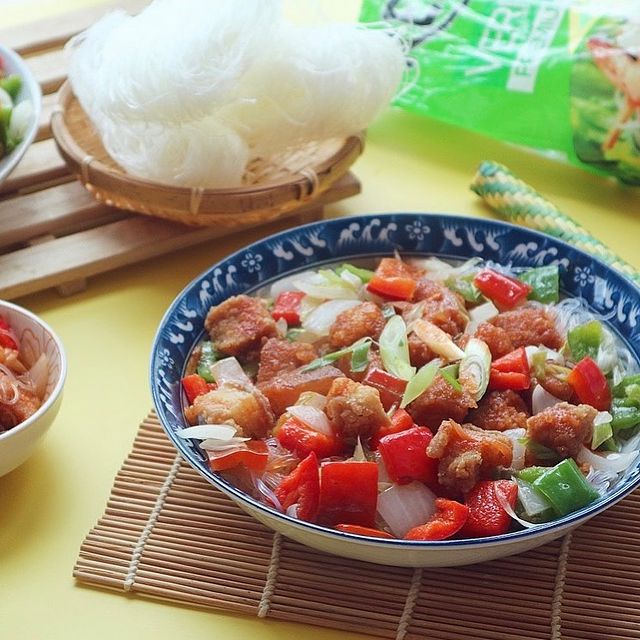 Sweet Chicken Sotanghon
Ingredients
2-3 pcs Relish Vermicelli soaked in water
1/4 cup cornstarch
500 grams chicken breast cut into bite size pieces (seasoned with salt, pepper, fried chicken seasoning)
1/2 cup water
1 pack tomato sauce
1 tsp brown sugar
1/4 Seasoning
Half Chicken cubes
green onion cut into 1 -inch pieces
red bell pepper (diced)
green pepper (diced)
white onion (diced)
Procedure
Cut the bundle of Relish vermicelli in half. Cook for 3-5 seconds or until the noodles rise to top. Remove immediately and drain in paper towels. Repeat with the remaining noodles. Set aside.
2. Place 1/4 cornstarch in a large resealable bag then add the chicken. Shake the chicken until well coated then fry and set aside.
3. Heat oil in a wok over medium heat sauté the onion and bell pepper and set aside.
4. In the same pan, add the tomato sauce, water, sugar, Knorr seasoning and Knorr cubes. Stir very well and wait to boil. (You can also adds herbs such as thymes, or basil)
How to assemble:
1. In a plate put the cooked vermicelli, pour the tomato sauce mixture on top, add the fried chicken over the sauce. Garnish with cooked vegetables and sprinkle with some sliced green onion.
Relish, Your Choice for Every Recipe!