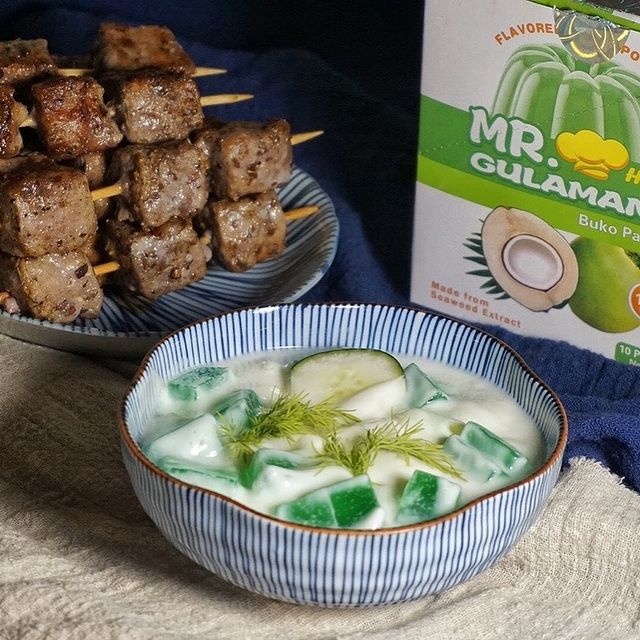 Cucumber Yogurt with Pandan Jelly
Ingredients
Step 1
Ingredients for pandan jelly:
1 pack Mr. Hat. Gulaman (Pandan Flavored)
3 cups water
3 tbsp white sugar
Step 2
Ingredients for cucumber yogurt:
2 medium fresh cucumber (pipino)
1 500g plain yogurt
Mr. Hat Gulaman jelly sliced into cubes
Dill for toppings
Procedure
1. Sa isang pot, ibuhos ang water. Isunod ang Mr. Hat Gulaman pandan flavor at sugar. Mix to dissolve.
2. Hayaan bahagyang kumulo. I-off ang stove. Let it cool for 15 mins.
3. Transfer to a rectangular container. Let it cool and set inside the ref.
1. Balatan at alisin ang buto at hiwain ng cubes ang pipino. Ilagay sa medium bowl.
2. Slice ang Mr. Hat Gulaman into small cubes.
3. Ibuhos ang yogurt sa bowl ng pipino. Mix well. Isunod ilagay ang gulaman cubes. Haluin mabuti.
4. Lagyan ng garnish na dill sa ibabaw (optional)
5. Serve and enjoy with grilled meat.