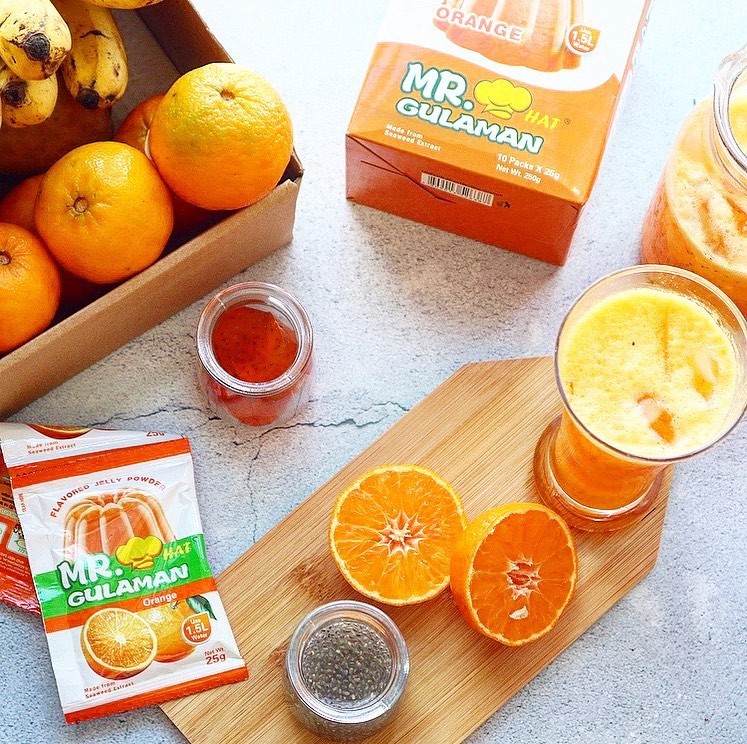 Orange Juice with Chia Jelly
Ingredients
Chia Jelly:
2 cups water
1 cup white sugar
2 tbsp chia seed (soak in water or milk for 10 minutes then drained )
1 pack Mr. Hat Gulaman (orange unflavored)
2 pcs orange (juice extract)
1 pack orange powder
Orange Juice:
2 pcs orange ( extract juice )
1 pack orange  powder
1 tbsp chia seed ice cubes 500 ml water
Procedure
1. Dissolve Mr Hat Gulaman in 2 cups water , sugar and orange juice.
2. Over medium heat , bring to boil and cook then turn off the heat. Lagyan ng chia seeds habang hinahalo ng mabuti.
3. Ilagay sa ice moulder and wait for the gulaman to set.
4. Ilagay ang isang buong orange sa juicer. Set aside.
5. Sa loob ng blender, ilagay ang 1 pack orange powder , 500 ml water, fresh orange juice at ice cubes.
6. Blend until smooth.
7. Ilagay sa isang glass tapos dagdagan ng chia jelly.
Enjoy!