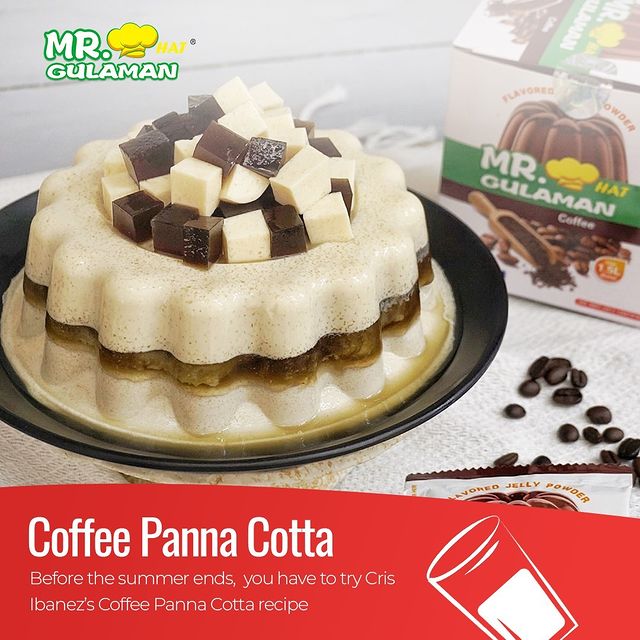 Coffee Panna Cotta – Mr. Hat Gulaman Coffee
Ingredients
1. First Layer:
a. 1 sachet Mr.Hat Gulaman White Unflavored
b. 1 pack all purpose cream
c. 4 tbsp sugar
d. 2 1/2 cups water
2. Second Layer:
a. 1 sachet Mr. Hat Gulaman Coffee
Flavored
b. 5 tsp sugar
c. 3 1/2 cups water
Procedure
1. Ilagay ang water sa kaserola. Add the Mr. Hat Gulaman White Unflavored, sugar, at all purpose cream.
2. Mix well hanggang ma-dissolve ang gulaman powder at sugar. Hayaang kumulo ng bahagya. Ibuhos ang kalahati ng lutong gulaman sa molder. Yung natitirang kalahat pour it in a small square pan.
Palamigin ng 2 hours sa ref.
3. Sa isang kaserola, ilagay ang tubig, Mr. Hat Gulaman Coffee Flavored, at sugar. Mix well. Hayaang bahagyang kumulo habang hinalo ng tuloy-tuloy. Turn off the stove. Slowly, ibuhos ang 2 cups ng coffee-flavored gulaman sa ibabaw ng white gulaman mixture. Isalin ang natirang coffee jelly sa small square pan. Hayaang mag-set at lumamig sa ref ng 2 oras.
4. Sundin ang paggawa ng first layer white gulaman. Pour ang lutong gulaman sa ibabaw ng coffee jelly layer.
5. Hayaan magset ng 4 hrs sa refrigerator. Unmold. Get the set aside square pans. Slice ang coffee jelly at white jelly into small cubes. I-unmold at ilagay sa ibabaw ng Summer Coffee Panna Cotta.
6. Serve cold and enjoy!